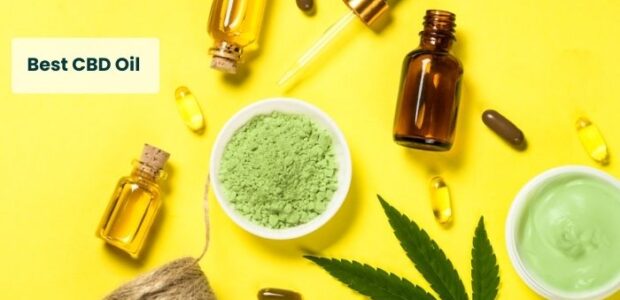 CBD oil is derived from the cannabis plant. It contains cannabidiol (CBD), a chemical compound found in the Cannabis sativa plant, also known as cannabis or hemp.
In this article, we've described CBD oil in detail, including how you can use it and its pros and cons. Before sharing CashBolo's selections for the best CBD oils for 2022, it's important to know about CBD.  Also, we'll see some alternatives and answer some frequently asked questions. This will make it well-informed and easy to choose a product.
Let's get started…
What is CBD Oil?
CBD oil consists of CBD extracts from the Cannabis plant and a carrier oil, such as hemp seed oil. CBD is one of many compounds in the Cannabis or industrial hemp plant.
Another popular compound, tetrahydrocannabinol (THC), is responsible for the "high," or the strong psychoactive effects, of cannabis.
On the other hand, CBD is unharmful. This means that it does not make you high, euphoric, or impaired. Instead, it contributes as an alternative remedy such as pain-relief, anti-inflammatory, anti-anxiety, and anti-psychoactive effects.
CBD oil comes in different forms and types. Such as:
CBD Isolates: CBD Isolate is the pure form of CBD. The active ingredient is only CBD.
Full-spectrum CBD: This contains all the phytochemicals in the Cannabis plant, including various other cannabinoids, terpenes, and oils. It also contains trace amounts of THC, the compound that produces a high.
Broad-spectrum CBD: This contains all the phytochemicals in the cannabis plant. Depending on the product, it may contain trace amounts of THC or none at all.
In the United States, the products must be less than 0.3% THC to comply with legislation. Still, a broad-spectrum CBD product, for example, may contain enough THC to lead to a failed drug test.
CBD oils are also found in various strengths and flavors.
Benefits of CBD
There are many benefits of CBD if used correctly. Research shows that CBD can be beneficial in multiple ways. For example, one 2017 study shows that the chemical compound found in CBD help reduce blood pressure. And the blood pressure response to release stress. Besides that, the Epilepsy Foundation reports that CBD might be helpful in treating seizures related to certain epilepsy syndromes.
Furthermore, CBD is noted in treating a variety of disorders, including those cause pain and inflammation. Other CBD oil benefits include:
Remedy for fibromyalgia
Irritable bowel syndrome
Menstrual cramps
Lowers stress and anxiety
Lessens PTSD symptom
Neuropathic pain
Sciatica
Help reduce chronic pain
Improves sleep quality
Pros and Cons of CBD Oil
Take a look at some advantages and disadvantages of CBD oil:
CBD Oil Pros
Calm anxiety and Depression
In some cases, CBD oil can be used to treat epileptic seizures
Reduce post-traumatic stress disorder (PTSD) symptoms
CBD oil will not make you high
Easy to take in the body
CBD Oil Cons
Side effects of CBD oil include sluggish, nausea, fatigue and irritability.
Can cause stomach upset and other side effects
Not legal everywhere.
Not regulated by the Food and Drug Administration (FDA)
Interacts with some medications
Results can show on drug test
Again, it is crucial to speak with your doctor before starting CBD products
Is CBD oil and tincture same?
There is not much difference between CBD oil and tincture. Take a look:
CBD oils vs tinctures
CBD oil: made by infusing cannabis in a carrier oil
CBD tincture: made by soaking cannabis in alcohol and water
Differences between CBD oil and hemp seed oil
CBD oil and hemp seed oil is not the same. Usually, people get confused with CBD oil labeled as hemp oil. Hempseed oil is made from hemp seeds and does not contain any CBD. Whereas CBD oil is made from the hemp flower, buds, stems, and leaves of the cannabis plant.
CBD Oil Vs CBD Products
You can get CBD in various forms, so you can use it in different ways, including:
Eating CBD gummies
Using CBD creams to care your skin
Getting dropper to place CBD Tincture or oil under the tongue
Taking CBD capsules and pills
CBD oil is ingested, whereas CBD lotions and creams are for the skin. The beauty and other products made of CBD are for external use, so they may not include as benefit as CBD oil.
Taking CBD capsules and gummies delivers the compound to the brain slower than using a dropper to place CBD oil under the tongue.
Other than that, there is not much advantage of using CBD oil, compared to other forms. It should also be remembered that each CBD oil dosages differ from product to product.
How to know if CBD is good for you
CBD is in huge demand only because people find something good in it. However, you should do some research before trying a CBD product. Or, you can consult a doctor, whether to use CBD or not, especially if you are pregnant, breastfeeding or taking other medicines regularly.
Another important point, you should also check the local regulations regarding CBD. Because it may not be allowed in all countries. CBD is legal in many parts of the United States, however, most CBD oil providers require you to be at least 18 years old to get one. Also, you should ask the manufacturer whether they'll ship to your area or not.
CashBolo's picks for the 5 best CBD oils
Strongest broad-spectrum CBD oil
Green Roads CBD Oil
Green Roads CBD oil comes in a 30 ml bottle. Perfect for a 30-day supply when taken in 1ml per serving. It is available as a full- or broad-spectrum product.
What's Special
It's a proprietary CBD oil, formulated by Green house in-house team of pharmacists, and perfected over several years
The bottle has 1500mg of CBD (50mg/1ml) to help manage your daily stressors
It offers rich, sweet flavor with subtle hints of caramel.
The broad spectrum CBD extract is blended with a 5-ingredient base intended to offer a better experience than the standard 2-ingredient blends you find with other brands.
Prices may differ as per your oil choice $$
Find exclusive Green Roads coupons here.
For a variety of strengths
Edens Herbals CBD Oil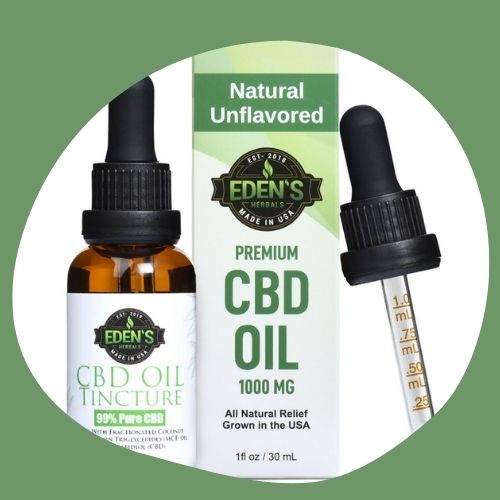 Eden's Herbals offers CBD Oil Tinctures in 1000, 2000, 3000, and 4000 MG bottles. They use cannabidiol tinctures that are of the highest quality all-natural ingredients.
All Edens herbals Hemp extracts come lab-tested for purity. Also, Eden's CBD is free of heavy metals, pesticides, and toxins!
The CBD oil comes in 3 varieties – THC-free CBD tinctures, full-spectrum CBD tinctures, and sleep aid tinctures.
Pricing is reasonable and it can become more affordable with the edensherbals coupon code.
Best for unflavored CBD oil
Diamond CBD Oil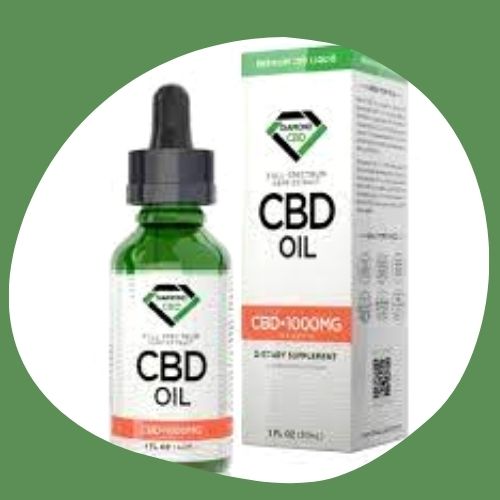 CBD type: full-spectrum
CBD Strength: 550 mg per 30-mL bottle
Price: $$
Diamond CBD Unflavored Hemp Oil can be used as CBD oral drops (CBD tincture), in vape liquid, topically, or added to foods. Diamond CBD Unflavored CBD Oils are infused with CBD oil from organic hemp.
Do note, it is vital to always start a new CBD regimen slowly. This will help you find the right dosage for you since everyone is different.
At only $67.49 per 30 ml bottle, the price point stands out as less costly.
Use diamond CBD coupon for 30% off.
Best for gluten-free CBD oil
CBDMD CBD Oil Tincture
cbdMD CBD oil is a Broad-spectrum cannabinoid extract containing CBG, CBDV, etc. It is 100% organic, USA-grown/processed, non-GMO, gluten-free, and vegan CBD oil.
Benefits:
Easy-to-use dropper or convenient on-the-go spray
Infused with natural sedatives like melatonin, valerian root, chamomile, and cascade hops
No harsh side effects, just great sleep
Non-GMO, gluten-free
The price depends on the strength $$
Best for Everyday Daily Balance and Strength
Elixinol CBD Oil
CBD Type: full spectrum
Flavor: Natural, Cinnamint
Size: 4000mg
Pricing: $$
Elixinol bestselling CBD is the core of your wellness routine. The full-spectrum formula works with your body to promote relaxation and a healthy mood.
Elixinol CBD oil promotes calm, relaxation and a healthy mood
Full-spectrum extract made with USA-grown hemp
Uses Beneficial MCT coconut oil for efficient absorption
Extracts CO2 — no harsh solvents
4000mg – 33mg CBD oil per serving
Want Elixinol coupon? click here.
How to use CBD oil and tinctures
Before you use shake the bottle to ensure the ideal consistency. To place the oil under your tongue – use a dropper – many products will come with one.
For full absorption, try to hold it under the tongue for a few seconds to a minute before swallowing.
If you want to know how many drops to take, just follow the recommended dose written in the bottle provided by the manufacturer, or your doctor.
You can take CBD at any time of day. But doses should be taken at least 4 to 6 hours apart. If you're taking CBD for better sleep, try using it before bed.
CBD oil and tinctures should be kept in a dry, cool place away from direct heat and sunlight. Check the dropper cap if it's closed tightly after each use.
Also, make sure not to touch your mouth with the dropper to prevent bacterial contamination and preserve the quality of the oil.
Is CBD legal? The 2018 Farm Bill removed hemp from the legal definition of marijuana in the Controlled Substances Act. This made some hemp-derived CBD products with less than 0.3 percent THC federally legal. However, CBD products containing more than 0.3 percent THC still fall under the legal definition of marijuana, making them federally illegal but legal under some state laws. Be sure to check state laws, especially when traveling. Also, keep in mind that the FDA has not approved nonprescription CBD products, and some products may be inaccurately labeled.
*All the statements here are not been evaluated or approved by the Food and Drug Administration and are not intended to diagnose, treat or cure any illness. Medical advice should be taken from a medical professional.