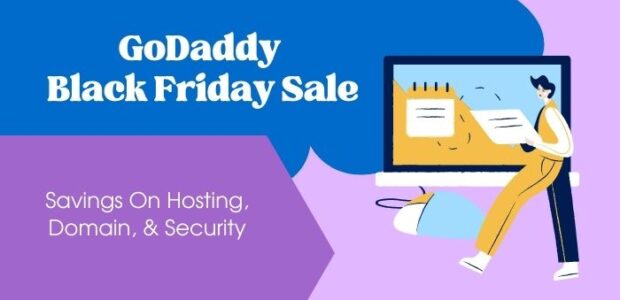 GoDaddy Black Friday Sale is right in the corner. And, this time the Sale is going to be even bigger.
The special occasion all entrepreneurs and bloggers were waiting for a whole year has now arrived.
This Black Friday Sale 2021, GoDaddy is offering up to 80% off on its products like Domain, Hosting, Website Builder, Marketing tools, etc. That means it's time to save huge money.
Take the advantage of this GoDaddy Black Friday Sale 2021. Start your own website or blog or grow your online business at the most affordable prices.
Take a look at the best running GoDaddy deals that comes once a year:
GoDaddy Black Friday Sale 2021
Domain Name – Savings up to 80%
Domain Name is the root of your business or blog. People recognize your site through the domain name. Also, it can turn into a big brand. So, get the domain that's specific to you.
In this GoDaddy Black Friday Sale, you can choose domains with different extensions. Save up to 80% on .digital; .in; .cloud; .org; .com, .xyz; .io, and .biz extensions.
Wait! The special GoDaddy Black Friday domain offer doesn't end here. You'll also get:
Up to 100 subdomains to create a custom web address.
Real-time monitoring to make sure you're always up and running.
Simple domain set up. You don't need any technical skills.
Quick, simple tools to forward your domains to any existing website.
World-class support from web pros standing by ready to assist you.
Web Hosting – Savings up to 60%
GoDaddy hosting solutions range from web hosting to blazing-fast dedicated servers. And, all the hosting plans are up to 60% off for a limited time on this Black Friday. Grab the discount all right here.
50% off Web Hosting: Affordable hosting to get you started.
57% off WordPress Hosting: Optimized for WordPress sites — for speed and ease-of-use.
60% off Business Hosting: Dedicated speed for ecommerce and multiple sites, plugin-heavy CMS or high-traffic sites.
45% off VPS Hosting: Ideal for web designers & developers managing multiple projects.
25% off Dedicated Hosting: Highly customizable for resource-intensive web applications — and fast speed.
Which Hosting Plan is the best pick for you?
Budget-friendly Plan – Web (or Shared) Hosting is the most affordable type of hosting to get started. Since hosting resources are on a shared basis, you spend less but have limited options and control.
Need More Power – Virtual Private Servers (VPS) and Business Hosting dedicate specific portions of a web server's capacity and processing to each customer. You'll have more space, more control, and better site speed.
Maximum power – Dedicated Server Hosting is the giant of all hosting plans with unlimited resources. It's powerful enough to run any successful business. However, it comes at a premium price.
Web Security – Savings up to 40%
Out there are wild webs that want to take your hard earnings. Don't give them a chance. This Black Friday Sale is the right time to get strong and affordable tools to keep your site and customer secure.
Your website deserves the protection of an SSL Certificate, Website Security, and Website Backup. GoDaddy is offering up to 20% off on this comprehensive web security. A safety net for all your hard work.
30% off SSL Certificate – Protects your site by encrypting sensitive data, like customer info. and transactions. Also, better Google search ranking.
20% off Website Security – Runs daily scans for security threats, prevents attacks, and fix malware problems from your site.
35% off Website Backup – Creates a backup copy of your website and data. Just in case of a server crash, or malware makes the rounds, website backup keeps your data safe.
Why Choose GoDaddy this Black Friday Sale?
GoDaddy is the #1 world's leading domain registrar and web hosting platform. The reliability of the company can be known with their 20+ million satisfied customers.
You can fully trust GoDaddy to get live online. And, this Black Friday Sale is the chance to make that reality at the best-discounted price. This is not an ordinary sale, it comes once a year.
Besides that, GoDaddy is the Seven-time winner of the "Exceptional Customer Service" Stevie® Award and taking your calls 24/7/365. Read full review.
GoDaddy Black Friday Sale FAQs
What is GoDaddy Black Friday Sale?
Black Friday Sale is the biggest shopping day that comes a day after thanksgiving. During Black Friday, GoDaddy the domain and web hosting provider offers the highest discount on its products.
When will GoDaddy Black Friday sale 2021 start?
The Black Friday Sale will be starting on 26th November 2021. But make sure to keep tracking us because GoDaddy may bring pre-sale just before Black Friday.
How much discount can I expect to see during Black Friday at GoDaddy?
Well in GoDaddy Black Friday Sale 2020, there was up to a 90% discount. So, this time you can expect the same or even more.
What if I miss the GoDaddy Sale?
GoDaddy offers such a huge discount only during Black Friday Sale. GoDaddy followers can never afford to miss this once-in-a-year sale. However, if you missed the opportunity you can check for the exclusive GoDaddy coupons that can still get you a handsome discount.
Will GoDaddy India run the Black Friday Sale?
Yes. GoDaddy offers its discounts in India and all over the globe.
Are you ready?
This is going to be the biggest GoDaddy Black Friday Sale in 2021.
We know, those who are aware of this sale are keeping an eagle eye to grab exclusive deals.
I suggest you, do not miss the chance to save up to 80% on your order.
Create a beautiful site, start a blog, run an online business or grow your existing website this year with GoDaddy.
Happy Savings!