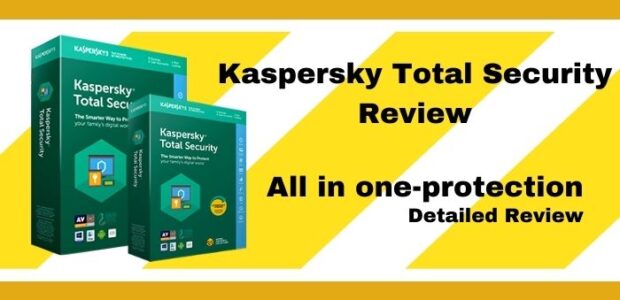 Award-Winning Protection, High-end Security, and Top end features are what all we want with a security suite. Right?
That's exactly what we have covered. Especially, when it comes to protection against viruses, malware, hacking, Cyber-attacks, & more.
So, without wasting a single second, Let's start the Kaspersky Total Security Review. Is it worth protecting your devices (PC, Macs, Androids, etc.)?
70% OFF Kaspersky Total Security
Overview
| | | | |
| --- | --- | --- | --- |
| Features | Kaspersky Antivirus | Kaspersky Internet Security | Kaspersky Total Security |
| Security against viruses, ransomware & more | ✔️ | ✔️ | ✔️ |
| Performancewithout slowing you down | ✔️ | ✔️ | ✔️ |
| Simplicity – Easy to Use | ✔️ | ✔️ | ✔️ |
| PC, Mac & mobile -Compatibility | ㄨ | ✔️ | ✔️ |
| Strong Privacy – Webcam hijacks,phishing, etc. | ㄨ | ✔️ | ✔️ |
| Money – Safe Online Transaction | ㄨ | ✔️ | ✔️ |
| Safe Kids – Bad Content blocker, GPS tracker & more | ㄨ | ㄨ | ✔️ |
| High Protection – Password Manager | ㄨ | ㄨ | ✔️ |
| File Protection – Backups & more. | ㄨ | ㄨ | ✔️ |
Product Pricing
Having tons of premium features still, Kaspersky Total Security comes at a reasonable price. Even Free trial and 30-day money-back guarantee are offered by the company for your better safety.
While purchasing the product select the package you want. Price is ranging from $79.99 – $229.99. Do not forget to check the Kaspersky Coupon Code to get an extra discount on the product.
You can also check Kaspersky Total Security Vs Internet Security for deep comparison.
Kaspersky Total Security Review: Pros & Cons
Pros – What's Good?
Whether it's online or offline, protection has never been an issue with Kaspersky Total Security. It has been multi-times awarded for banking security.
Strong security against Virus Threats, Anti-Hacking Security, and a variety of Web Security tools included all under the Kaspersky Total Security Umbrella in 2020.
Kids safety – Don't let your children meet with adult content! Because Total Security offers parental Control, you can keep an eye on your Kid Devices. Watch what they are doing!
Having tons of features Total Security is simple to operate. With an easy user interface, it becomes super easy to use the software.
Unknowingly sometimes files or images get deleted that were important for you. But, what if you would have a backup that restores all old deleted files? Kaspersky Total Security offers backups for Cloud and Local.
Cons – What's Bad?
Mac suite has a limited feature as compare to the Windows suite
iOS protection is limited
Comparatively expensive to other Kaspersky products
Benefits of Kaspersky Total Security
When it comes to the Kaspersky Labs product they will never let you down. In this Kaspersky Total Security Review, we have covered the major features that help protect devices against malware, viruses, cyber-attacks, etc. and gives more freedom of internet use.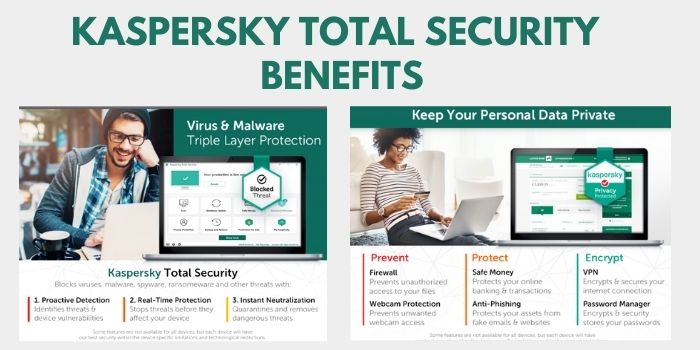 Kaspersky Safe Kids
For the safety of your child, ensure the best protection against prying internet goons. Ensure their safety the best you can. Help your child manage their screen time, Social Media Activities and let them not succumb to the fraudulent doors easily accessible on the internet. Receive detailed reports of their activities at the touch of the Protection Kids button, now free with this Security Product.
Password Manager
Avail the benefits of the Password Manager with Kaspersky Total Security, for FREE. Sync all your passwords and get over with remembering individual passwords with Kaspersky Total Security. Complex
Passwords and the hassle of remembering them are too much to ask of any human but Kaspersky Total Security is always at your service.
Privacy Protection
Unauthorised Access to your devices are a constant threat in the age of Knowledge theft. With Kaspersky Total Security, lay all those concerns to bed with features ensuring the best for you Prioritising your Safety.
Smart and Secure VPN
Kaspersky Total Security provides Smart and Secure VPN for all of its customers with no additional charges or 3rd party apps/ Software. Ninja stealth is ensured keeping you clean and safe both simultaneously and effortlessly. Connections here are all secure!
Protection for Multi Devices & Platform
With Kaspersky Total Security you can avail of all the aforementioned benefits ON MULTIPLE DEVICES. Comprehensive Security Solutions for Windows, macOS, and Android all under the same umbrella. Do your thing wherever you please- leave the security hassle up to Kaspersky Total Security.
Kaspersky Total Security 2020 Review – Special Updates
1. Multilayered Defense Engine– A multilayered protection designed to protect against malware. It includes Real-Time Antivirus Protection, Automatic Exploitation Prevention, Trojan Remover, Instant Threat Detection, etc.
2. High Tech Protection- Ensures advanced scanning to detect malware and unwanted threats. It includes Malicious Link Detector, Malware Defender, Trusted Application Mode, Custom Hardened Browser.
3. Anti-Hacking- It also prevents unauthorized access and the hijacking of your devices. It includes Two-Way Firewall, Payment Protection, Anti-Ransomware, App-lock, etc.
4. Privacy Protection- Encryption of your personal and browsing data to stops cybercriminals from spying. It includes VPN, Anti-Phishing, Privacy Browsing, Webcam Protection, etc.
That's All…
So, those were all about Kaspersky Total Security Review.. We have discussed it's plans, pricing, features, including its pros & cons.
We hope this review will help you get the best protection for your devices. Also, being a well-ground product total security ensures the safety of your entire family.
Well looking at the features and research, Total Security is worth recommending. Go for it!
70% OFF Kaspersky Total Security