You are here it means you have already signed up for a new Hatchling, Baby, or Business HostGator package. Or, maybe planning for it. Either way, this quick HostGator cPanel login guide will make things easy for you.
The best part? There are multiple ways you can log in to HostGator cPanel. It's always good to know the different methods. So, let's begin.
HostGator cPanel Login Through Welcome Email
Yes, that's true. When you buy a hosting package from HostGator, they send you a welcome email to the email id you have registered. It contains all the information about your new hosting package, including username, password, and access link to your cPanel directly.
Now, in your email inbox look for: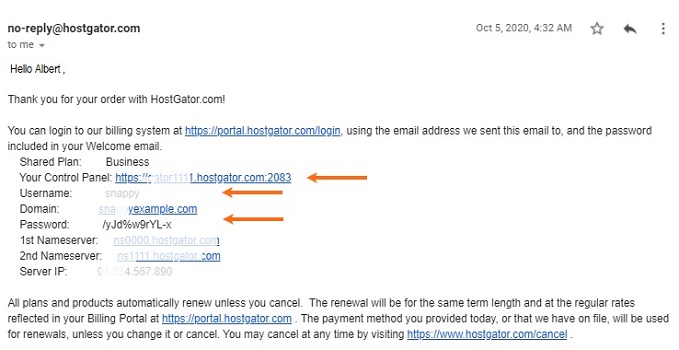 Your Control Panel – That is the url that takes you directly to the cPanel login area. Open the link in a new tab/window and also make sure to bookmark the url for further easy access. Usually, control panel link ends with ":2083."
Username – It contains your cPanel username.
Password – Obviously it's your cPanel password.
Login to HostGator cPanel Through Customer Portal
From Customer Portal area you can get single sign-on option to your cPanel for Shared and Cloud Hosting Plans. You can follow the below steps to access your cPanel through Customer Portal.
First, log in to your Customer Portal.
On the Dashboard, select the Shared or Cloud hosting package you want to access the cPanel.
Now, click on the Launch cPanel. Here is the shortcut link to cPanel.

4. That's it. A new tab will open, logging you directly to your cPanel.
Direct HostGator Login cPanel – The Most-Easy Way
To log in HostGator cPanel, you can simply use your domain name in the browser. How? Use https and your domain name followed by a colon and the secure port number 2083.
Example: https://yourdomain.com:2083
Or: https://yourdomain.com/cpanel
As shown above, you need to replace yourdomain.com with the domain name you want to access HostGator cPanel login. Remember the username and password are provided in your email. In case of password loss, you can simply click on forgot password to get a new one or reset it.
Was it Helpful?
So, these were the simplest and easy way to access cPanel Login for HostGator.
We hope this guide will spark some lights to your login issues.
For more log in queries or issue you can contact to HostGator support via phone or Live Chat.
Also, check HostGator Promo Code for additional discount, if you are purchasing new hosting plan.