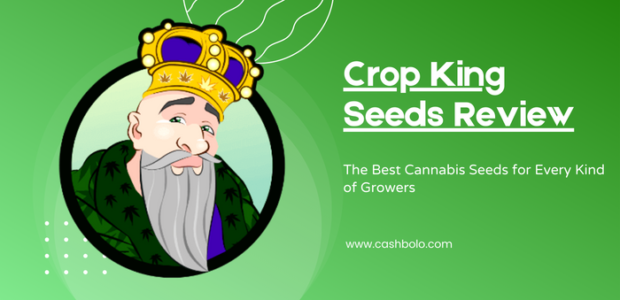 Looking for high-quality cannabis seeds with a germination guarantee? Check out our 2023 review of Crop King Seeds. With an extensive selection of feminized and autoflowering seeds, along with regular seeds for breeders, Crop King Seeds has something for everyone. Shop with confidence knowing you're getting top-quality seeds backed by a germination guarantee.
In this review, we'll explore what makes Crop King Seeds one of the best seed banks in the industry and what you can expect from shopping at their online store.
Crop King Seeds is a renowned seed bank with a reputation for providing high-quality cannabis seeds to its customers worldwide. With a comprehensive collection of seeds, Crop King Seeds caters to the diverse needs of marijuana growers, making it a one-stop shop for all things cannabis.
Crop King Seeds Complete Review 2023
Overview
Crop King Seeds is a Canadian-based seed bank that has been providing high-quality cannabis seeds for over a decade. The company has established a solid reputation in the industry, and its products have become popular among growers worldwide.
Crop King Seeds is committed to providing its customers with a wide variety of cannabis seeds, including regular, feminized, and autoflowering seeds. Their intuitive website layout and categorization options make it easy for customers to find the seeds they need.
In this Crop king seeds review, we will take an in-depth look at the product selection, quality, germination rates, customer service, shipping, and payment options offered by Crop King Seeds.
Product Selection
Crop King Seeds has a vast selection of cannabis seeds, with over 40 strains to choose from. The strains include indica, sativa, and hybrid varieties, with different THC and CBD levels to cater to the needs of various growers. The seed bank offers feminized seeds, which produce only female plants, and autoflowering seeds, which flower automatically regardless of light schedules. Additionally, Crop King Seeds provides regular seeds, which produce both male and female plants, giving growers the option to breed their plants.
Crop King Seeds' website layout and categorization options are intuitive, making it easy for customers to find the seeds they need. The website has a search bar where users can search for a specific strain or browse the different categories based on the type of seeds they are looking for. The categories include feminized seeds, autoflowering seeds, regular seeds, CBD seeds, and mix-and-match packages.
Quality and Germination Rates
Crop King Seeds' team of experts selects and tests their seeds to ensure they meet the highest quality standards. The company's commitment to providing high-quality seeds is reflected in its germination guarantee, where they promise a germination rate of 80% or higher.
If a customer encounters any issues with germination, Crop King Seeds will replace the seeds for free. The company also provides detailed germination instructions on its website, which customers can use to ensure they get the best results.
Customer Service
Crop King Seeds has a dedicated customer service team that is available to assist you with any queries or concerns. They are responsive and knowledgeable, ensuring that you get the support you need quickly and efficiently.
In addition to their customer service team, Crop King Seeds has an extensive FAQ section on their website, which answers many common questions related to growing and purchasing cannabis seeds.
Shipping and Payment Options
Crop King Seeds offers discreet shipping options, with plain packaging that does not indicate the contents of the package. The company ships worldwide, with free shipping on orders over $300. Customers can pay for their orders using various payment options, including credit cards, debit cards, bank transfers, Bitcoin, and cash.
Crop King Seeds' shipping times vary depending on the destination, but customers can expect their orders to arrive within 2 to 14 business days. The company also offers express shipping options for customers who need their seeds urgently.
Final Thoughts
Crop King Seeds is a top seed bank that offers high-quality cannabis seeds, excellent customer service, and a user-friendly website. With their extensive collection of seeds, you're sure to find what you're looking for, whether you're a seasoned grower or just starting.
If you're looking for a reliable seed bank with a proven track record, Crop King Seeds is definitely worth considering. With their germination guarantee and commitment to customer satisfaction, you can shop with confidence. Besides that, you can also find the Crop King Seeds coupon that will help you save an extra dollar on your purchase.
In conclusion, if you're looking for quality cannabis seeds and excellent customer service, look no further than Crop King Seeds. With their extensive collection of seeds, user-friendly website, and germination guarantee, you're sure to find what you need. Click here to visit their website and start your cannabis-growing journey today.