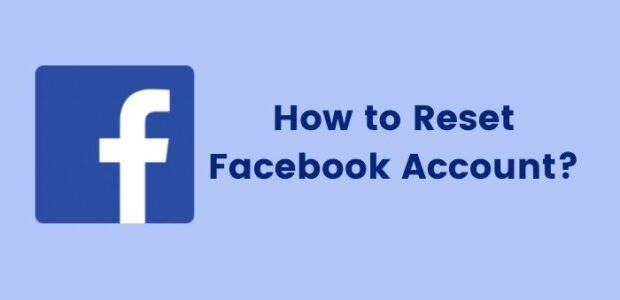 Today, almost every website asks you to make a strong password that must include characters, numbers, and special characters. If you have recently changed your password on Facebook then you also noticed it. But, after making a strong password some of us forget it because we are not used to it before. We have to go for a reset Facebook account process, which could be frustrating for non-technical users. 
I also made such a stupid mistake in the begging days of social media and after that ask a friend for help to recover my Facebook account. After that, I started learning new methods to recover Facebook accounts without losing a friend that we will discuss here.
Reset Facebook Account / Recover Old Facebook Account With 4 Simple Methods
After trying multiple ways to reset Facebook accounts, I have come with my best 4 methods by which you can easily restore your Facebook account. So, let's start with the easiest method to reset the Facebook account setting and afterward we process the next method.
1. Use Phone Number or Email to Recover Your Facebook Account
While making a Facebook account, it asks you to add a phone number and email id for security purposes. So, when you forget your password or your Facebook account gets hacked, you can easily recover your Facebook account. If you have added either a phone number or email id to your Facebook account, then here's how you can use it to reset the facebook account and access it.
Here you will see the "Forgotten Password" below the login panel.
Now enter your phone number or email id to search for your Facebook account. You can also search your Facebook account by name, but I recommend going with the phone number or email id.
Now you will see the "Reset Your Password" panel where you can choose either email or phone to get the recovery code. With this recovery code, you can easily restore your Facebook account setting.
Just choose one of them and click on the continue button. After that, you will receive a code that you have to insert into the text area field.
Congratulations, you have learned the easiest method to get your old Facebook account back.
2. Ask Help From Your Trusted Facebook Contacts to Get Access
What if you haven't updated your phone number and email in your Facebook account? Is there still any chance to reset it?
If you are thinking the same then the answer is "Yes". You still have three other methods that will help you to restore your Facebook account setting. There is a feature of trusted contacts in the facebook setting that simply tells Facebook that those friends are your closest and trusted ones. At the time of account hack or password forget, you can get help from them by using these simple steps.
First, you have to perform Method 1 all steps and if you have lost access to your email id or password, click on "I no longer have access here".
After that, you have to enter your email id or phone number that you still have access to.
Now you have to choose your trusted contact from your friend list. Remember you must have their phone number so you can ask them for the access code. Don't choose a friend in trusted contact that you are not connected with.
Now ask for every access code from your trusted contacts and then enter it.
3. Go With My Account Has Been Broken Feature
Let's assume that both above methods are useless for you just because you haven't added your phone number/ email id or trusted contacts. So, now you can try this Facebook feature to reset your Facebook account. But this feature only works if you have accessed your Facebook id on your device before. Facebook stores your contact and personal information and your device id, mac id, and IP address. By this, Facebook confirms that you are the same person who owns the id. Let's take a look at this amazing feature that will help you to recover your Facebook account.
First, visit the http://www.facebook.com/hacked
Here you will see the "My account is Compromised" button and some text. Read all instructions and press the button.
Now enter your phone number or email ID before losing your Facebook account and click the search button.
After that, you have to enter the old password you are using before a new one or lose it.
Now you have to answer the asked questions from Facebook as per the condition you are facing.
Follow this step to the end until it's finished and you get either a success message or a verification message.
4. Visit Help Center If Above Methods ain't Useful
Sometimes you forget your password and the "forgotten password" method does not work. In such cases, you have to visit the help center to get access to your Facebook account. It's also a simple process to reset Facebook accounts without losing a friend and here's how you can do it simply.
Visit the Facebook help center by following this link https://www.facebook.com/help
Select the "Policies and Reporting" menu from above and choose the "Hacked and Fake Accounts" sub-menu.
Now you have to choose the "It looks like my account has been hacked or someone is using …" option.
Follow the "Visit this page" link and then choose "Then choose my account has been broken".
After that, you have to enter your old email id/phone number and password.
When you enter both, you will receive a warning message of "Request a new one". Just click on it and go to the next step to recover your Facebook account.
Choose the "No more access here" option and click on the "I can't access my email" option.
Now enter a mail id that you have access to and not been used in any other Facebook account before. For safety, you can create a Gmail id in a few minutes.
You will receive a form that you have to fill and send to Facebook.
Once Facebook confirms all your information then it will send you the recovery link. This process may take several hours so don't panic and wait for the recovery link.
When you receive the link, just click on it and set a new password.
Check all the logged devices and if you don't recognize them then log out to make your Facebook account secure.
Voila, you have successfully reset your Facebook account without having any difficulty.
Conclusion
Resetting Facebook accounts may take several minutes which totally depends on the situation that you are currently facing. In the process of recovering your Facebook account, I suggest you start with the first method and then proceed to the next method if you face failure. I hope this blog will surely help you to reset Facebook account settings and if you want to know how to make a strong Facebook password then read my blog.